John J. Ward, RG, Groundwater Consultant
In analyzing construction and mine dewatering, my focus is on
Planning,
Incorporating of regional hydrogeologic conditions into development of useful site-specific data,
Analyzing and interpreting hydraulic testing,
Flow modeling,
Developing optimized systems.
Special attention is paid to the occurrence of localized flow systems, such as fractured or coralline rocks, or conduits such as buried pipe embedment or open-work drainage systems, which may dominate dewatering efforts.
Descriptions of dewatering projects I have been involved in are provided below.
Differing Site Conditions, Arizona: Testifying expert for claimant on construction dewatering differing site conditions dispute during construction of a deep sewage lift station. (See description under "Expert Witness and Litigation Support".)
Pipeline Dewatering, Arizona: Pipeline construction dewatering. Dewatering within highly permeable gravels. Testing effects of sumping vs. predrainage methods, alternatives budgeting, and groundwater modeling of dewatering strategies. Confidential client (engineering contractor).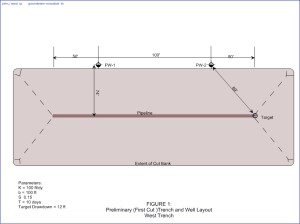 Interstate Highway Construction Dewatering, California: Managed development of test dewatering wells and prepared groundwater numerical model to assess locations, depths, and pumping rates of dewatering wells; and to predict areal impacts including migration of contaminated water rising into depressed highway section, Los Angeles. Evaluated effectiveness of current dewatering and developed more effective alternatives. Transportation Department.
Mine Dewatering, Nevada: Conducted peer review and independent assessment of pit dewatering feasibility and methodologies, open pit mine, Nevada. Provided due diligence of permit technical data for confidential mine developers.
Industrial Site Dewatering, California: Managed characterization of industrial solvent migration in soils and groundwater. Designed and implemented groundwater extraction dewatering system consisting of six dewatering wells for optimized mass removal. Conducted environmental fate analysis of contaminants in treatment works. Obtained no further action site (NFA) closure. Confidential client.
Open-Pit Mine Dewatering, Florida: Managed two open-pit phosphate mine dewatering and artificial recharge projects, central Florida. Designed, constructed, and monitored deep disposal wells in Floridan aquifer. Confidential clients (mine operators).
Mine Dewatering, Arizona: Conducted due diligence of abandoned open-pit copper mine, Arizona. Assessed groundwater inflows to pit, evaluated effectiveness of dewatering and pressure relief wells on stabilizing pool elevations and alleviating pit wall instabilities. Confidential purchaser.
Differing Site Conditions, Hawaii: Testifying expert for defendant in construction dewatering differing site conditions case, Honolulu. (See description under "Expert Witness and Litigation Support".)
Mine Tailings Dewatering, New Mexico: Conducted fate and transport analysis using modeled groundwater flow and contaminant transport in molybdenum mine tailings. Included evaluation of the feasibility for dewatering tailings and depressurizing or blocking minewater discharge. Confidential client.
Tailings Dewatering, Wyoming: Characterized groundwater potential to contaminate perennial streams from trona mine tailings, Wyoming. Evaluated performance of dewatering wells and impacts to groundwater systems. Confidential client.
Construction Dewatering, Hawaii: Designed and managed dewatering pilot testing for Honolulu waterfront development. Included installation of multiple high-capacity dewatering wells and monitoring wells in open coral deposit, and conducting and analyzing aquifer tests to determine dewatering duration and overall rates. Confidential client (developer).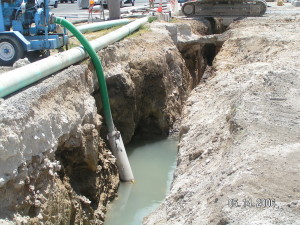 Cooling Water Disposal, Hawaii: Designed and installed deep recharge wells for cooling water disposal at two power plants, Hawaii. Evaluated groundwater resource, predicted effects of disposal on groundwater system. Utilities client.
Brine Depressurization, New Mexico: Determined sources of brine contamination of eastern New Mexico river and downstream reservoirs, and assessed feasibility of dewatering and depressurization of brine aquifer via deep interception wells. Federal client.